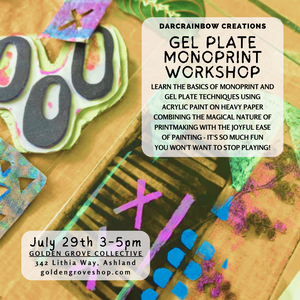 Gel Plate Printing Basics: Learn the basics of monoprinting on a gel plate with acrylic paints. In this two hour workshop you will learn the basic steps to making your own monoprints and decorative papers for all types of mixed media art and endless craft applications.
All supplies will be provided, and each participant will leave with a pile of completed works on paper. Everyone will receive an email prior to the workshop listing materials you can bring from home to personalize your art and make it more unique, as well as a workshop outline to keep as reference material.
July 29th 3-5pm. Tickets are only refundable until the week-of. After that no refund will be issued.